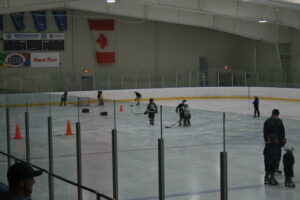 McFarland Youth Hockey Association (MYHA) in conjunction with McFarland Hockey Boosters.
Intro to Hockey (formerly known as Learn to Skate)
This program is for boys and girls between the ages of 3-7 years old who want to develop the skating skills to give hockey a try. The focus is on FUN while teaching basic hockey skating skills. Kids less than 10 are more than welcome to join the program, but should be aware the average age of participants is around 6/7 years old.
Equipment and skate rental included (security deposit required for equipment rental). This is made possible by the McFarland Hockey Boosters.
For more information or to register: www.mcfarlandhockey.org OR click link above.
AND
Learn to Skate USA Program
Southern Wiscsonisn Figure Skating Club offers two programs from Learn to Skate USA. To participate in this program you will have to register with Learn to Skate USA where you will receive a life long number (keep it safe). Cost to register with Learn to Skate USA is $16 + $1.25 processing fee, this is done anually. Visit the above website for more information.
Snow Plow Sam 1-4
Is for ages 3 to 5 and is designed for younger children to learn the joys of skating. After passing through all four levels, skaters will move to Basic 2.
Basic Skills 1-6
Teaches the FUNdamentals of ice skatingand provides the best foundation for sucess in both hockey and figure skating.
To Register with SWFSC Classes: Click on their logo to be redirected to their site.